A Complete List of Small Businesses Blog Post Ideas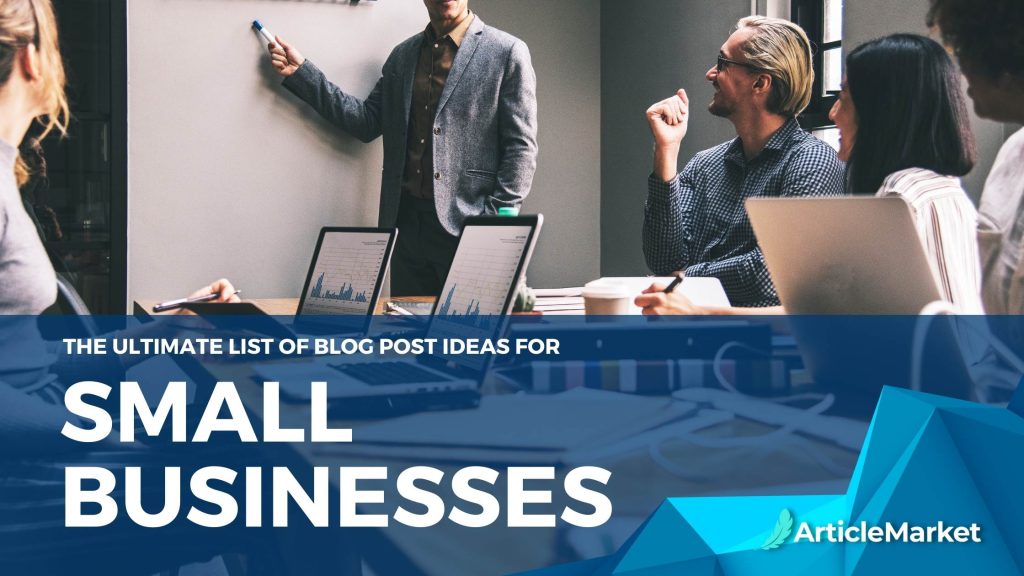 Small businesses employ half of the country's private sector workforce and are the backbone of the American economy. The American small businesses industry is thriving and has never been better.
A blog is a great way to attract new customers and build your business's brand. It's also a low-cost, low-effort way of producing content that will rank well on search engines.
Blogs have been around for quite some time, but they have taken on a new life in the last decade. It is now common to find an online magazine or blog that covers everything from technology to home décor. The best part about a business blog is that it has the potential to make your company go viral. With just one post, you can reach hundreds of thousands of people if you get lucky
Have you ever found yourself struggling to come up with blog topics for your small business blog? You're not alone. This is a common problem for many business owners and entrepreneurs.
Luckily, there are many different ways to generate quality blog topics that will connect with your audience and help you get more website traffic.
How to Keep Your Business Blog Readers Up-to-Date
Write about any current news that is being discussed in your field.
The Benefits of Guest Posting
If you want to get different perspectives on a topic from experts in the field, consider having them guest post on your blog.
How to Research and Find Experts in Your Field
Creating a list of experts in your field is a great way to learn more about the industry you're interested in. You can find out their education and experience by looking at their profile or CV.
Key Members of the Business
If you are running a business, it is important to highlight the key members of
your team. This includes addressing their roles within the company, their
backgrounds, and their experience as it relates to your industry. By doing
this, you can give potential customers or clients a better understanding of
who they would be working with if they chose to do business with you.
How to promote your webinars
If you're hoping to get people to watch your webinars, it's a good idea to
promote them on your blog. This is a great way to let your clients and
customers know what you're up to and what they can learn from tuning in.
Your company FAQ section
Your company should have a section on its website that answers frequently
asked questions (FAQs). Make sure this section is up to date and addresses all
of the commonly asked questions.
Avoiding Common Customer Mistakes
There are a few things to keep in mind when using products to avoid mistakes:
-Read the instructions carefully and follow them step by step -Do not try to
fix or modify the product if something goes wrong, contact customer service
for help -Keep the product away from children and pets to prevent any
accidents
What are the pros of your product?
Assuming you want a summary of the article "How to Write Effective Product
Descriptions": The article suggests creating a list of pros about your product
by using positive customer reviews. This will help identify what clients and
customers are noticing and commenting on that is positive.
How to Use Our Product or Service
This article is suggesting that if you want to offer tutorials on how to use
your product or service, you should make sure to include step by step photos
and notes. It also suggests getting suggestions from your clients or customer
base to improve the quality of your tutorials.
The Myths of My Industry
Industry myths are stories or beliefs that are commonly accepted as true, but
are actually false. These myths can be about the history of an industry, the
origins of a product, or the manufacturing processes used today. Busting these
myths can help people understand your industry better and appreciate its
importance.
Thank you, loyal customers!
Thanking your customers is always a good idea, especially if they've tried out
your newest product line. By showing appreciation, you build loyalty and
ensure that your products are well liked by those who matter most – your
current customer base.
Product Giveaway
You can give away a freebie or trial size portion of your product to one of
your blog followers on a weekly or monthly basis. You could also do this as a
trivia winner prize, or as a "name in the hat" drawing style prize.
10 myths in the fitness industry
Assuming the student is in high school, they should be able to find myths
about their chosen industry with a simple internet search. Once they have
found a few myths, they can use additional internet searches and other
resources to determine whether the myths are true or false. After determining
which myths are true and which are false, the student can create a post that
either debunks or proves the common myths in their industry.
What are the "cons" about your product?
The "cons" list is a way to organize all of the complaints about your product.
The customer complaint list should be used as the base for this list, because
it includes all of the complaints that the public has already noticed.
How to Use Your Product or Service
If you want your clients or customers to best understand your product or
service, it is recommended that you write a how-to article. By doing this, you
can explain the proper usage of your product in detail. Furthermore, invite
your clients or customers to take photos while using your product correctly
and post them along with your blog so others can see as well.
How long does it take for skin care products to work?
If you want your skin care product to be effective, you need to use it long
enough to see visible results. This may take several weeks or months. Once
your skin condition improves, you may be able to reduce how often you use the
product.
3 Ways to Avoid Costly Miscalculations in Your Business
One common mistake that is made in the field of customer service is failing to
properly train employees. This can lead to a lack of knowledge about company
policies and procedures, which can frustrate customers. Another mistake that
is often made is not staying up-to-date on new products or services. This can
result in customers feeling like they are not being heard or valued. At our
company, we make sure to avoid these mistakes by providing comprehensive
training to our employees and by constantly communicating with our customers.
Learn more about the customer care team!
You should write a "Meet the Team" blog post so that your readers can learn
more about the customer service team. This will help customers and clients
feel closer to the team, and appreciate the work they do.
How our product line was born: A-Z
The product line is a series of products that are produced by the company. The
production process for each product in the line is different, but the goal is
to produce a quality product that meets the customer's needs.
"Meet The Staff": A Key To Employee-Customer Relations
A "Meet The Staff" corner that introduces a key employee every period helps to
forge the feeling of community between your clientele and your staff members.
The Benefits of a News Roundup
Your product or service should be recapitulated in a weekly news roundup.
How to Showcase a New Product
You can release new products by doing a sneak peek, premiere or early release
giveaway to a handful of your blog readers. This will allow you to get
customer feedback and create excitement around the product before it is
released to the public.
Get to know the faces behind your favorite products and services.
A video blog post is a way of introducing yourself to your customers and
creating a sense of community between your brand and its staff members. In the
video, discuss your background and highlight your own addition to your product
or service. This will help forge a connection between your customers and your
brand.
A Brief History of Our Company
In the early days of the company, the founders started out making products
that were very different from what they make now. Over time, they have refined
and focused their product line to better meet the needs of their customers.
Today, the company makes a wide variety of products that are used by people
all over the world.
How to do a comparison of products post
You should compare your product to your competitor's product in a way that
highlights your product's strengths. Don't focus on your competitor's
weaknesses, because this could have the opposite effect of what you want among
your customer base.
Most popular customer testimonials
Customer testimonials are a great way to show potential customers what your
product or service is all about. By including testimonials that highlight
specific products, you can create a segue to discuss the product with your
customers in more detail.
Products that customers love
This is a way to determine what your customers love about your products, and
which ones are their favorites. Getting a wide variety of customer feedback
will give you the most accurate results.
Get to Know the Business Owner: Write a "Meet the Owner" Blog Post
Assuming you want a summary of what a "Meet the Owner" blog post entails: A
Meet the Owner" blog post is simply a post where readers can get to know the
founder of your business. This could include information about their
background, why they started the company, their goals for the company, and
anything else readers might find interesting.
My Main Competition and Why Their Stuff is Lame
Your competition is the other companies who sell similar products or services
as you. Their processes or products are inferior to yours because they don't
have what you have – your strengths. So, focus on listing your own company's
strengths rather than going into detail about why your competitor's weaknesses
make them less good than you.
Post Something Funny
This person is saying that you should have a fun Friday by doing things like
telling jokes and posting memes.
Customer Satisfaction Over Time
The company wants to know how satisfied customers are with the product over
time. They will interview some long term customers and also some newer
customers so that the product satisfaction level over time can be discussed.
Staff Favorite Products
Our company sells a lot of different products, and our staff has some favorite
products that they love to use. Here are some of the products that our staff
loves, and why they love them: Product 1: This product is great because it
helps me stay organized and I can easily find what I need. Product 2: This
product is amazing because it keeps my skin hydrated and feeling smooth.
Product 3: This product is my absolute favorite because it's so easy to use
and it really works well.
Interview an industry expert in your field
Well, first you need to define what field you want to focus on. After that,
you'll need to find an expert in that field who is willing and able to be
interviewed by you. Once the interview is conducted, post it somewhere
accessible to your target clients and customers. This will help show them that
your product has support from established professionals.
The Reasons to Choose Our Product or Service Over the Competitors
Assuming you want a "Why Choose Us" blog post discussing your product or
service: There are many reasons to choose our product or service over the
competition. To begin with, our product/service is of superior quality. In
addition, we offer a more customized experience, which means that you will get
exactly what you need from us. We also pride ourselves on excellent customer
service; should you have any questions or problems, we will be there for you.
Finally, we offer competitive prices without sacrificing quality or service.
All in all, choosing us is the best decision you can make for your needs.
Host A Prize Giveaway For Reading The Blog On A Regular Basis
A blog is a website where someone writes about something they are passionate
about. You can read blogs on any topic, from cooking to politics. Reading a
blog regularly means that you enjoy the content and want to see more of it in
the future. To encourage people to do this, some bloggers host prize
giveaways. This could be done weekly or monthly, and the prize could be
something related to the blog topic (like a cookbook for a food blog) or just
a small gift chosen at random (like a $10 gift card).
Current Product Trends in the Cosmetic Industry
There are several new product lines currently available in the market. One of
them is the iPhone 12, which has been upgraded to include a better camera and
processor. Another popular option is the Samsung Galaxy S20, which comes with
a higher-resolution screen and an improved design.
How to Create a "Behind The Scenes" Post
Assuming you want a summary of the article "Create a 'Behind The Scenes' post
that discusses the processes and methods that aren't normally observed by the
customer": Many businesses use social media to connect with their customers
and create posts about their product or service. However, some companies also
like to show the behind-the-scenes action to give their followers a glimpse of
what goes into making their product or service. This type of post can be
called a "behind the scenes" post, and it can be used to discuss anything from
production methods to company culture. If you want to make a behind the scenes
post for your business, consider what processes or methods would be
interesting for your customers to see, and then film or write
The Issue Has Now Been Resolved
The government has now lifted the lockdown on our industry and we are back to
business as usual. Thank you for your patience during this difficult time.
Staff interviews
As a business owner, it's important to introduce your staff to your customer
base in order to forge a feeling of community between them. To do this, you
can conduct interviews with each team member and post them on your website or
social media platforms. In the interviews, be sure to discuss their background
and how they contribute to your product or service.
How to Find Complementary Products for Your Business
If you offer a product or service, it's important to be aware of what similar
products or services are out there. This way, you can learn from your
competition and improve your own offerings. To do this, review a list of
products that aren't in competition with your own, but are related to the
field of products or services that you offer.
The Do's and Don'ts of Proper Product Usage
A blog series on the correct usage of a product line helps customers avoid
common mistakes and misuse.
Top Picks: Listing Our Favorite Products and Why We Love Them
A product roundup is when you list your favorite products or services and
their individual traits. This is important because it shows manufacturers and
marketers that you trust the product and use it yourself.
Great blog post ideas for promoting your seasonal product or service
If you want to attract customers during a particular season, it's a good idea
to create social media posts that relate directly to your product or service.
For example, if you sell winter clothing, you could post photos of people
wearing your products and looking happy, or write blog posts about how to
style different pieces of clothing. Seasonal posts can be a great way to get
people interested in what you have to offer!
An open letter to my audience about the new product lines.
This is an open letter to my audience about my new product lines and how
excited I am to have new team members aboard. I want to be a breath of fresh
air in the industry by bringing my sense of humor and positive attitude to the
blog.
Welcome to Our New Team Member!
It is always a good idea to introduce your new team members to your customers
and clients. This helps to forge a feeling of community between your staff
members and your customer base. When introducing your new staff member, be
sure to discuss their qualifications and background. Discuss how their
addition will improve your product or service.
The Power of Overcoming Adversity
I was working as a software engineer and I failed miserably. I was constantly
getting passed over for promotions and I felt like my career was at a
standstill. I decided to take a risk and quit my job to start my own software
development company. It was the best decision I ever made. Within a year, we
had our first big client and things just took off from there. Now, my company
is one of the leading software development firms in the country.
Positive Product Comparisons
An industry statistic is a number that represents something about the products
in a particular industry. For example, the average cost of a product in the
cosmetics industry might be $15. To exceed or meet this average, your product
would need to either cost less than $15 on average, or have some other
exceptional quality that makes up for the higher price. One way to stand out
against competitor products is to write up a comparison between your product
and theirs. Be sure to focus on what makes your product better, rather than
their weaknesses. If you only focus on painting them in a negative light, it
could backfire and customers may avoid your product altogether.
The History of My Field
The field of psychology has a long and fascinating history. It began with
early philosophers like Aristotle and Plato, who had different ideas about the
nature of the mind and human behavior. Around the turn of the 20th century,
psychology became its own scientific discipline, with pioneers like Sigmund
Freud and William James doing groundbreaking work in areas like psychoanalysis
and functionalism. In the mid-20th century, B.F. Skinner introducedBehaviorism
as a way to study observable behavior, rather than mental states. Since then,
psychology has continued to evolve and grow, incorporating new insights from
fields like neuroscience and cognitive science. Today, psychologists are
involved in everything from studying how people interact with technology to
working on methods for improving education or reducing
How to Use or Enjoy Your Product or Service: A Step-by-Step Guide
Assuming you want a summary on how to use or enjoy a product or service: Step
One: Figure out what it is you want to do with the product or service. Whether
that be using it for fun, work, or other purposes. Step Two: Once you have
established what you plan to do with the product, read any available manuals
or guides on how to properly use and set up the said product. This step is
important as it can help prevent any damages that may come from not knowing
how to use something correctly. Step Three: Now that you should know how to
use the product, go ahead and start enjoying it! Make sure to take care of the
device though so that it lasts longer.
Feature a success story on a person that is in your field.
Include their background and the contributions that they have made to your field
When people in your field are looking for inspiration, they often look to the
successes of their predecessors. Telisa668's background and contributions
offer just that. As a 12th grader, she is currently enrolled in college-level
courses and has already made significant contributions to her field. Telisa668
was born in Guangzhou, China and raised in New York City. At an early age, she
showed a aptitude for mathematics and science. She went on to attend some of
the most prestigious schools in the country, including Stuyvesant High School
and Columbia University. After working as a research assistant at Columbia's
Department of Biological Sciences, she decided to pursue a career in medicine.
Nowadays