It takes skill to write optimized blog posts that are search engine friendly and user-friendly. It can be improved with practice, just like any other skill.
It's not difficult, despite what many people believe. To ensure that your blog or website is SEO-friendly, you can follow a few simple steps.
It is easy to change things like the title of a post, the structure of a site, text formatting, headings, and paragraphs. But they play an important role in ranking.
This post will explain the 10-step process that I use to optimize my blog posts for SEO.
Before we get into the details, let's clarify two points that many people find confusing.
 First, an SEO-friendly blog post is also user-friendly.
Many believe that blog posts optimized for search engines are less user-friendly. This is false.
SEO means publishing content that search engines and users understand.
You have less chance of getting high rankings if you don't meet these conditions. Your readers will be more inclined to ignore your posts.
Your blog posts will rank higher on Google if you meet these criteria. Users will spend more time reading your content and will add comments to it, share it on social media, or convert it.
Second, SEO-optimized posts don't necessarily have great content.
Although it may seem contradictory, it is not. Let me explain.
While quality content is the most critical factor in evaluating a blog article, it is not the only one.
SEO is more effective if the blog posts have high-quality content. A poorly optimized blog post can rank lower in search results, while one with good content will be more likely to rank higher in Google searches.
This means that a blog post should not rank high simply because it is SEO-friendly.
A blog post will be ranked on Google's first page if it has good content and SEO (including Offpage SEO).
Now that you know what an optimized blog post is let's look at how to make sure your blog is SEO-friendly before you press the publish button.
Ten Tips to Write SEO-Friendly Blog Posts
Before you begin writing, think about what you are doing.

The structure of your blog post should be created

Create the URL and title

Headings should be used correctly

Keep your paragraphs brief

If it makes sense, add links

Use keywords, but not keyword stuffing.

Optimize the length and content of your blog posts

Optimize your meta description

Optimize images and other media elements
01. Before you begin writing, think about what you are doing.
It's time you save by spending time, in the beginning, planning what you want to write about in your blog posts.
This is what I do.
Daily, I read articles about SEO and marketing from different digital marketing blogs.
I save the URL and title of a topic or title that I find interesting to use in my blogs.
My publishing schedule is created at the beginning of each month. I review any articles that have been saved and look at my notes.
Once I have decided which topics I want to cover, I create a Google calendar with a publishing date.
When I have time to write the post, I take the topic and do a deeper analysis (including keyword search) to answer these questions.
What are the most important topics you want to discuss in your blog post?

What's the purpose of this post? Get higher rankings for a keyword, get more subscribers, promote my 

SEO courses

, etc.

What will my readers gain from the new post?
It is easier to answer these questions ahead of time, and you can move on to the next step.
02. The structure of your blog post should be drafted.
Next, you will need to create the structure for your blog post. Framing refers to the sections within the post.
Writing a blog post can be easier by splitting it into different parts. Writing 200 words for a particular piece of a blog post is faster and more efficient than writing longer sections.
This is especially useful if you don't have time to complete the entire post in one go. You can efficiently work on each part independently once you have the structure.
This is an example of how I designed the structure before I wrote the blog post that you are currently reading.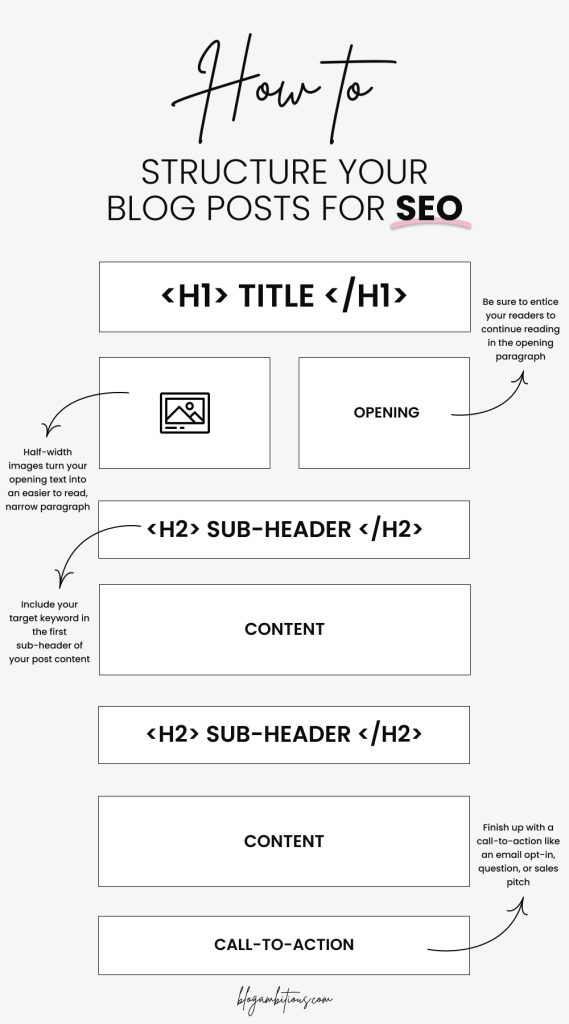 A blog post should generally have an introduction, main section, and conclusion, similar to writing an essay.
You can break down the main section into several parts. Take a look at the structure of the post and scroll down to see the final result.
You can see how I divided the central portion of the post (10 Tips to Writing SEO Friendly Blog Posts) into separate parts.
03. Create the URL and title
SEO Guidelines for Blog Post Titles & URLs
Next, you will need to choose the title and URL of your blog post.
Although I understand that many bloggers prefer to start with this step and then build the blog structure, I found it easier to write the title when you know what the post will be about.
If you feel the title should be first, and then the structure of the blog, then you can follow the best approach for your case.
A good title is essential for SEO and user-friendliness.
SEO is all about optimizing titles. It gives Search Engines a hint of what the page is all about.
 A great title should include the following: 
It can be displayed without breaking in the SERPS with a character length of 55-60 characters.

It contains your target keyword but is not keyword-stuffed.

It accurately describes what the blog post is about

It's interesting for users to click on your entry when it appears on search engine result pages.
Consider the title of this article, "How To Write SEO Friendly Blog Posts – My Step by Step Process."
My target keyword was SEO-friendly blog posts to make it easy for search engines and users to understand what I was writing.
Research has shown that power terms make titles more engaging and clickable.
Use powerful words in your blog titles.
The screenshots below show other examples of optimized titles.
Titles SEO Optimized
 The URL is simple. 
To separate URL words, use "-." You will need to modify your permalink structure if this is not the case on your blog.

Make your URLs shorter and remove unnecessary words. Usually, your CMS will generate the URL based on your title. You can manually modify the URL (permalink) and remove certain words before publishing a blog post.
For example, the default URL for this blog post was /how-to-write-SEO-friendly-blog-posts -my-step-by-step-process/ but I have optimized it by changing it to /seo-friendly-blog-posts/.
Although many studies support this, Google has repeatedly stated that URL format is not an important ranking factor.
Important: To maintain your rankings, add 301 redirects after a published post.
 Resources for more 
SEO Best practices

 – Guidelines to optimize your blog posts for SEO.

SEO Friendly URLs

 How to make URLs that are search engine-friendly.
04. Headings should be used correctly.
These rules apply to headings in a well-optimized blog article:
The page has only one h1-tag. This tag is typically the same as the post's title, but it doesn't necessarily have to be.
It is essential only to have one h1 tag and that the heading contains your target keywords.
Use headings with a hierarchical structure: The title tag of the post should be the h1 tag, followed by the main sections, which should have an h2 tag, and the subsections, which should have an h3.
The order of the tags should therefore be H1->H2->H3.
It's simple to create a well-organized blog structure. The screenshot below shows how I used headings in this blog post.
SEO Optimized Headings
This is why you should organize your content in this way: It assists search engine spiders in the crawling process and makes it easier for users to read (and scan).
 Resources for more 
05. Keep your paragraphs brief.
Do not just put large paragraphs on one page and hit the publish key.
Most of your readers likely use mobile devices to access the content. Make it simple for them to do so.
Make small paragraphs (between 2 and 3 sentences) and use the different formatting options, e.g., Bold, Italic, and Underline, which will make your text more interesting.
06. If it makes sense, hyperlink it.
Try to "associate" your new piece with other blog posts by including internal links whenever you write it.
Internal linking is A very efficient and straightforward SEO technique with many benefits.
It allows search engines to discover new pages on your site – search engine spiders can follow any link that doesn't have the 

Nofollow attribute

 and add it to their index if it does not exist.

This is another way to give search engine crawlers a hint about the content of a page. For example, if I add a link such as 

SEO Tutorial

 to a page, I tell it what it has to do with SEO tuts.

It is an excellent way for users to have the option to click on a link to learn more about a topic.

This is one of the many techniques that you can use to lower bounce rates and keep your users on your site for more extended periods.
You will notice that I included links to other posts in this post.
Use keywords in your anchor text without fear. There is no penalty.
Google does it in their blogs, and Wikipedia also does it (see screenshot below).
Internal Links
07. Use keywords, but don't stuff them.
It is not a bad idea to include your target keywords (and variations!) in your blog posts. It's recommended.
Keyword stuffing is not recommended, as I stated at the beginning.
Also, don't just add keywords to the text because you want it to but only do it when it's natural.
What are the best places to add keywords? This question is common, and I have a simple answer.
The title of this post

Your main headings should be included in your post

In the context of the post

The 'conclusion.
 Here's a hint 
You can avoid keyword stuffing by not repeating the exact keywords repeatedly. To do this, visit the Google Keyword Tools or SEO Rush and search your primary keyword.
These tools will provide you with a list of closely related keywords. It would help if you mentioned these keywords in your blog post.
Keyword tool for SEM Rush
08. Optimize the length and content of your blog posts
Studies show that longer posts are more effective in search results and receive more mentions on social media.
This is true, but it doesn't mean that shorter posts won't rank well. It is essential to consider the content quality and not the quantity.
It is essential to understand that you will be competing with hundreds of other blogs on the same topic when you write a blog post.
You want to improve the quality of your blog posts so that they are promoted correctly and attract users' attention to natural links to outrank existing posts eventually.
When determining its ranking, Google does not consider the number of words on a page. Instead, it looks at the number and quality of the links that point to it.
A well-written post with good images, references, studies, and valuable information, is more likely to be promoted than a shorter and less exciting post.
To find out the length of your blog posts, you can open Google and search for your keywords.
Take a look at the ten entries on the first page. Note the types and words they contain.
You want to publish a piece with better word length, formatting, and information quality.
Click the publish button, and then use any white-hat methods to drive visitors to your blog.
Do not expect instant results. It takes time for Google to rank your blog.
09. Optimize your meta description
In the previous point 3, I discussed optimizing the URL and title of a post. It is also essential to optimize your description.
Description tags summarize the post that is less than 200 characters. Google might show your description in search results. It must be exciting and informative to get users to click on your link and visit your blog.
These are just a few examples from optimized descriptions.
Optimized Meta Descriptions
10. Optimize images and other media elements
Blog posts can be more attractive by adding images, graphs, and infographics. This will increase the quality and readability of the content.
Google clearly states that they cannot understand the context of images or videos while crawling pages, but many web admins don't follow the guidelines for optimizing their images SEO.
It is enough to use meaningful file names and a user-friendly /ALT TEXT.
Image SEO Alt Text Example
If you publish an image showing the SEO statistics 2020, don't call it img001.jpg. Instead, rename the image to something more meaningful like SEO-statistics-2021.jpg. SEO-statistics-2021.jpg.
The ALT TEXT should not be left blank. Instead, write a few words to describe the image. SEO Statistics 2020.
Hint Another way to use similar keywords in your blog posts is to use the ALT text for an image.
Keep your content up-to-date
Many people ask in forums, "How frequently should I update my website?" and "Is freshness a ranking factor?". I understand why.
It would be wonderful if someone could tell you that you don't need to update your blog often. That would make life a lot simpler for everyone. Unfortunately, this is not the case.
For a variety of reasons, you need fresh content for your blog.
This will allow you to have more pages in the Google index. This will make your website and domain more powerful.

This is another reason for users to return to your blog.

It's a great excuse to reach out to your subscribers.

It is one way to keep up with your peers or get ahead of them.

This will improve your writing skills

It can generate more 

pages

.
Conclusion
This blog post teaches us the following:
Spend some time researching before you start a new post.
To write SEO-friendly blog articles, follow the steps outlined above. If you have blog posts that aren't optimized yet, take the time to go back to optimize them.
It would help if you created a publishing schedule you are comfortable following and that you will stick to for an extended period.
If you have just started to learn SEO, don't lose heart. While the initial results may not be great, keep publishing high-quality, optimized content. Traffic will eventually come in.