10 Reasons You Should Add Images to Your Blog Articles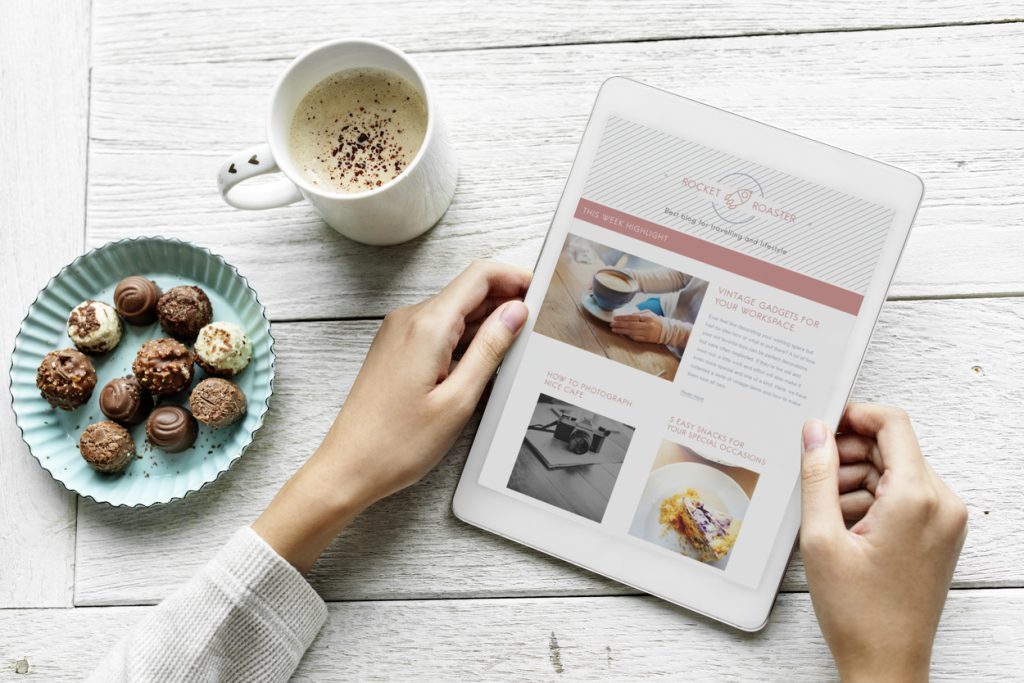 A blog for your business is a great way to drive traffic to your site, generate leads and keep your audience updated about your brand.
Blogging is more than just writing informative, well-written articles. Pictures are more effective than words at describing an idea or story.
Research has shown that visuals increase the desire to read content by 88%. 91% prefer interactive and visual content to text-based media.
Visual elements like videos, infographics, and images will become more critical as blogging shifts towards longer-form content. This will help retain the reader's interest and improve their overall experience.
There are several reasons to add images to your blog posts. These include: 
Increasing the length of your article

Making it more visual

Getting more social media shares

Attracting image search engine traffic
These are ten reasons to add photos to your blog posts and how they can benefit your business and you!
More Social Media Shares
Adding images to blog articles is one of the best ways to increase the number of social media shares. Studies have shown that articles with images receive more shares on social media than those without them. These images can be custom-made, shareable, and stand-alone tools that help drive more traffic to your blog and website. These images can also boost your organic audience growth.
Social media shares increase as blog posts are shared more. Research has shown that articles with 3,000 to 10,000 words receive double the number of social media shares compared to articles with less than 1,000 words. This is true even if you write a guest blog post. It is important to remember that your blog articles are the hub of your social media presence.
Adding social sharing buttons to your blog is a great way to increase the number of shares. Web pages with share buttons get 7X more shares than those without. Add these buttons to every post to boost social traffic and increase social proof. One of the best share buttons is the 'Pin It button, which appears on top of your blog images.
Increases the Length of the Article
The ideal blog article length is determined by the value of the content and the number of readers. Longer content gets more shares and domain links, but writing is more time-consuming. In addition, a longer blog post will likely receive more comments and generate more discussion among readers. However, a shorter article might sacrifice a writer's personality.
Depending on the topic, the ideal words for blog posts can range from a few hundred to several thousand. However, a blog article should be around 1,500 words in most cases. While quantity is significant, quality should be king. 
For a business blog, the ideal length varies by category and goal. A 7-minute video leads to approximately 1600 words. By contrast, a blog article containing only text can reach a maximum of four thousand words. However, different lengths are effective for different purposes. When choosing which length is right for your blog, keep in mind that search engines prioritize SEO-optimized posts.
Better Explanation With Images
Whether you're writing a blog article for a company or your website, using images can make it easier for your readers to follow along with your text. Images can be used to illustrate difficult or complex topics. When using images in your blog articles, make sure they complement your content.
When using images in your blog articles, ensure they're optimized for search engines. This way, they'll show up first in Google image searches. This will get you more traffic to your website. While you don't have to be an expert in photography to use images in your articles, high-quality ones will increase your chances of ranking highly in search results.
You can hire a graphic designer to create images for you or make them yourself. Design Pickle, for example, allows you to hire an artist for a flat monthly fee. Or, you can use free image-creation tools like Canva and Pixlr. Remember that images tell a story just as much as words, so the images you choose should support your words and hold your argument together.
Images Help Boost Your SEO
Adding images to your articles is a great way to add flavor to your content and increase traffic to your website. Not only will they improve your reader's experience, but they will also help your search engine rankings. Search engines are increasingly using visual search to help people find content. Although this search type does not translate to many sales, images can help build a stronger brand online and support your text content.
When optimizing images for SEO, it is essential to use high-quality images and keep them small and optimized for mobile devices. This will ensure that your page loads quickly. Fast websites attract more visitors, which means more page views and increased engagement. Using images to boost your SEO is a smart way to get ahead of your competitors. 
Google Image Search also contributes to driving traffic to your website. Its popularity is increasing, and you must get your products and services listed in image search results. Optimizing your images will allow your brand to get more eyeballs for your products and encourage prospective customers to browse or convert.
Improves the Reading Experience
Adding images to blog articles can improve the reading experience for the reader. According to a study by educational consultant Lynell Burmark, images increase attention and retention rates. Adding images to blog articles makes the content look more extended, more detailed, and easier to understand, especially for short articles. Moreover, pictures help people remember what they're reading, and they also help them understand tutorials and guides better.
In addition to providing a richer reading experience, adding images to blog articles can also help improve search engine ranking. This is because images make your articles appear in image searches. And because they increase the value of your posts, they increase your authority with readers. They also improve the overall reading experience, making them more likely to share the article with others.
Images also help cut through language barriers and provide context. This helps make communication easier. For example, Carla could have listed her favorite green foods in the text, but instead, she created an image to highlight those foods. By doing so, she made it easier for her readers to understand the benefits of eating green foods.
Images Are Visually Appealing
Images are a great way to make your blog articles more visually appealing. When used correctly, they can communicate a strong message and simplify a complicated topic. They can also make a product description more believable and authentic. One of the most critical factors in making your content more visually appealing is the use of thumbnails. A well-chosen thumbnail can influence the minds of your readers.
Images can also help structure your blog articles. They help to break them down into logical parts and can even help explain concepts to your audience. In fact, according to a report published by the Social Media Examiner, 65% of people retain information better when there are images.
Using images on your blog requires a lot of time and effort, but it can dramatically boost the performance of your content. Adding images to your blog posts will increase reader engagement, make content digestible, and make your content more memorable. They can also boost your social media engagement and shareability.
Images Create Better Link-Worthy Articles
Adding images to blog articles is a great way to optimize your search engine. Image-rich articles are better able to attract links to your site and can be shared on other platforms as well. In addition to increasing your blog's readership, images can help you explain abstract concepts and help make your content more valuable.
Infographics and image-rich articles

Case studies

Original quotes
Infographics are another great way to create link-worthy content. Including original quotes from experts gives your content more credibility. Case studies also help you make more substantial arguments. For example, internet marketer Brian Dean used multiple case studies to demonstrate that his Skyscraper Technique works. These case studies benefit businesses in the service industry and SaaS companies.
Using a link-worthy article strategy is crucial for generating significant traffic. However, without a high conversion rate, that traffic will be worthless. Adding relevant CTAs in the middle of the article can increase readers' likelihood of converting to sales. This strategy will pay off in the long run and will help you earn significant ROI.
Studies have shown that visuals have a significant impact on our buying decisions. When readers see an image of something they want, their desire will increase. Adding high-quality images to blog articles can increase your sales conversion rate.
You'll Appeal To A More Diverse Audience
Adding images to your blog articles will enhance your readers' experience, as images make written text come to life. They also help paint a picture in the reader's mind. According to a 2018 Social Media Examiner report, people retain 65% more information when they see an image alongside the text. This means that you'll be able to reach a wider audience and get more traffic in the process.
There are several free image creation tools available to bloggers, including Canva. These tools allow you to design graphics and use stock or original photos. The images should complement your blog post's topic. For example, if you're writing about cooking or baking, you should use pictures of food. You can also hire an illustrator to provide you with images. You'll want to choose original images whenever possible, but stock photos can also work.
Your Images Will Rank On Image Search Engines
You should use descriptive metadata to boost your rankings if your website has many images. Adding keywords to your image file name will help users and search engines identify your image. In addition, make sure that your images are original and relevant to the main subject. If your images are not original, they will have a low chance of ranking on image search engines.
You should also give your images descriptive file names. For example, if you're uploading a photo of your ugly Christmas sweater, give it a file name that describes the photo's subject. Google will use this to determine whether the image is relevant to the content on your website. However, if you're running a big website, this may be difficult.
Google takes several factors into account when ranking your images. For example, if someone searches for "DIY projects" on Google, they will likely find results that include DIY projects, so you'll want to optimize your images for these. Also, Google's algorithm favors fresher content, so recently updated images will likely rank high. Also, you should consider using embedded images to increase your image ranking.
Adding alt-texts to your images is vital for SEO, too. While leaving your images without alt-texts is tempting, this is not the best strategy. Google uses these to determine the content of your images, and it's best to use descriptive text. In addition, you should include your images in your XML sitemap. Sitemaps are helpful to Google because they help it understand your site layout and find new content.
Images Improve Sales Conversion
Adding images to your blog articles is an effective way to increase sales conversion. Studies show that visuals impact buying decisions, and high-quality images can increase your readers' desire and trust for your products. Ensure that your images match the content of your articles and are relevant.
High-quality images can help turn a random store visitor into a loyal customer. They can also guide your visitor through your sales process. A popular image for this purpose is a "hero shot," which shows a recognizable figure from your company. This image will draw customers into your store and make them want to buy your products.
Adding photos to your blog articles has several benefits. First, they improve the usability of your written content. Users tend to purchase products based on their feelings; if they can experience them first-hand, they're more likely to purchase them. 
A Picture is Truly Worth a Thousand Words
You'll soon realize that visuals don't have to be flashy accessories. They are vital tools that can improve your content and reach new audiences. This will ultimately drive more people to your website.
If you can show your audience who and what you are, then you don't need to spend time repeating it over and over.